Grilled, injured cheese
All the chix in studio were overwhelmed when we were told to be the back up dancers for Nicholas Teo during the national-level Chinese New Year open house in NS Padang.
And we started to practise and practise and practise more. On saturday we even had this full-costume-full-makeup rehearsal because of the VVVVIP Yang di-Pertuan Agong. That's really crazy.
Anyways the event turned out to be really happening and fun, esp the firecrackers part. Except that the afternoon was so tooting hot i almost became a piece of grilled cheese. And because of that i hurt my knee and elbow too. Sighs... And dont ask me how.
However we got to meet so many "celebrities" and the best part is we got to take picture with them PERSONALLY too! Check out some of them!
Before you say anything, may i suggest that at least Chun Li doesnt wear an oversized Cheongsam?
Still at the studio, with Apple Pie Jodie
The suicidal, malfunctioned, all-gone-nutz evilish Stitch! (Cheez, i ROFLed so much till now i can still feel my stomach and back pain!)
Jodie and Peggy @back stage
Kung Fu dance crew
Cai Shen Dao... Cai Shen Dao...
Weng and Yasmine
Pierre and Calvin, and some lil devil pops up out of nowhere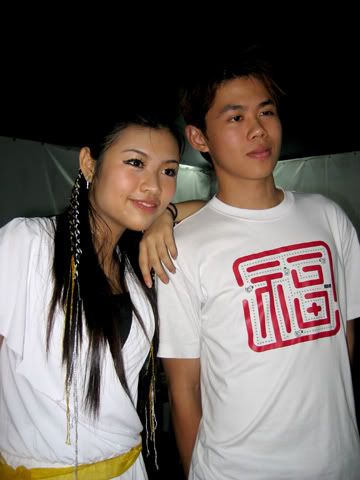 All ready to back up Nicholas Teo!
Celebrity 1: Song Ai Ling as Hang Li Poh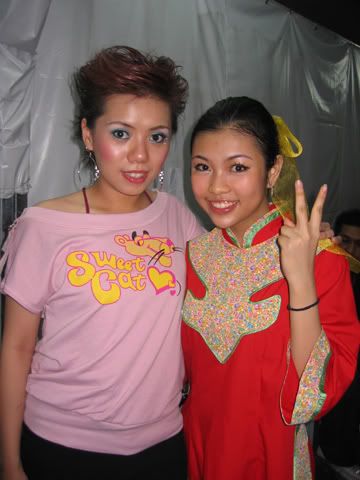 Celebrity 2: Candy Cheah
Celebrity 3: Winnie Kwok
Celebrity 4: Yan Qing
Celebrity 5: Zhang Jue Long
Celebrity 6: Dayang
And most importantly, the most sought-after eye candies Hince Chong and Nicholas Teo!
Me and Elaine sweetie, finally we can go for supper!